Thursday, February 25, 2021
Only 24 percent of people featured in newspapers, television and radio news are women*. Data shows there is still great inequality between women and men in the media worldwide. On March 1st, Free Press Unlimited will launch Media4Women (M4W) together with partners all over the world. The two-week global campaign highlights the importance of gender equality in and through the media. This year the campaign will focus on data monitoring by the media.
Join the movement!
From 1 March until 14 March 2021, show your support and take action with us to create as big of an impact as possible. What you can do:
Stay tuned to read, like and share everything we post during the campaign;
Speak out on your own social accounts and show that gender equality in the media is important to you. Do not forget to add #M4W2021;
Share your own experiences with data on gender representation, and media monitoring;
Monitor media – if you see problematic gender stereotypes, or women being sidelined or misrepresented, draw attention to it;
Know your data! Claim your space in the media! Be the change!
You can use the content of our social media toolkit, which can be accessed by clicking on the picture below.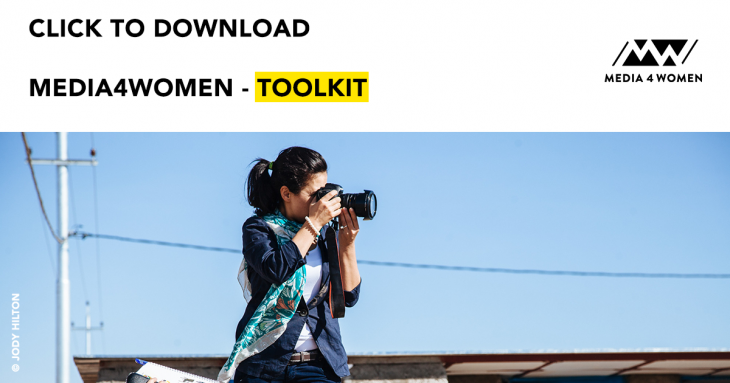 Why Media4Women?
Worldwide, gender inequality is perpetuated by the under-representation and misrepresentation of women in the media. Women are far less visible on television, radio, online and in newspapers than men, with fewer of their stories told. As soon as journalists are looking for an expert opinion, women drop out of the picture.
During the campaign (media) organisations and people from all over the world take action and show solidarity with women in the media. Women deserve equal rights and opportunities, and we have the power and responsibility to the present and future generations to work towards equal representation of women in and by the media!
Why data monitoring?
During this fifth edition of the Media4Women campaign we will focus on gender monitoring as an essential tool to get reliable data and improve the position of women in and by the media. Data monitoring reveals where things go wrong. Media needs to take this data into account in order to produce more gender-inclusive and diverse content. Data increases awareness on the existing issues, and therefore helps to move towards a better position of women in and by the media.
Larissa Buschmann, Programme Coordinator Gender & Media at Free Press Unlimited, on the importance of data monitoring: "Monitoring the content of media on gender representation and portrayal is a crucial first step to address the visibility of all women in media and gender equality in society."
Watch this conversation between Director Ruth Kronenburg and Larissa Buschmann about the need for this campaign.
What does the data say?
Since 1995, when the representation of women in the news started to be monitored by the Global Media Monitoring Project, the statistics have barely changed for the better. The latest figures* still leave an unacceptable picture:
Only 24 percent of people featured in newspapers, television and radio news are women;
81% percent of experts interviewed are male;
Only 37% of stories in newspapers, television and radio newscasts are reported by women, this statistic has shown no change over the course of a decade.
*Report Global Media Monitoring Project 2015. The results of 2020 will be available in May 2021.